Yesterday we had a class that was facilitated by Millers Grain House with a Guest instructor: Carolyn Counts.  This class also reached into the Preparedness arena.  Many of the classes from MGH are designed to serve both the healthy food enthusiast and the preparedness minded.  It is our way of bringing the message of Preparation to those who may not have thought of it before.  But I won't go on that philosophical journey just now, I want to show you some pictures of the Outdoor Dutch Oven Cooking Class we had!
Some of the important skills to learn are alternate ways to cook food.  Since Carolyn had been a participant in other classes that I (Donna Miller – writer of this blog post) had taught, we had the opportunity to learn more of the gifts/skills she possesses.  Carolyn spent two weeks in snow covered Montana cooking for a Ranch Camp in the middle of the wilderness!  The goods had to be brought in to the cook-tent by horseback.  Talk about your 'off-grid' situation!  Modern conveniences were no where around!
She shared with us just how to use the Cast Iron Dutch Oven and hot coals to cook a FANTASTIC meal for 24 in a little less than an hour and half!  Take a look at some of these pictures to see what fun we had: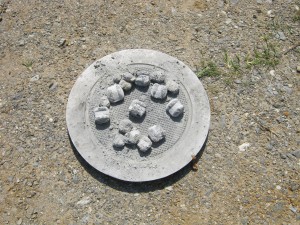 Carolyn lit the charcoal and just before it was completely white she began to build the base on this sturdy metal trivet.
Here is the beginning stack and the small grill she started the coals in.  No big fires, not a huge wood pile.  Simple and easy to keep – just hot coals.
We learned that each coal is approximately 25 degrees F.  So this helps you know how hot each pot is getting.  Thus you can plan the length of time each dish should cook.
Things that take longer go on the bottom.  Avoid peaking!
Then each dish was put in the appropriate sized Cast Iron Dutch Oven and stacked with just the right number of coals on the bottom then top.  The tower built held:
Potatoes & Onions on the Bottom
Ginger Carrots
Enough Meatloaf for a Crowd
 (Bread was added later)
Apple Cobbler
In a little less than an hour and a half we had a meal for 24 people!  Another participant mentioned using this at Thanksgiving. Great idea!
Cast iron can be found used at many flea markets and estate sales.  Carolyn shared with us instructions for cleaning up and seasoning your old cast iron finds.
Time to eat!  No electricity needed!
Much Thanks to our guest instructor for sharing with us.  We had a great time, learned great skills in alternative cooking methods, spent time with good folks, made more friends AND enjoyed a fantastic meal!
There are so many more photos to share of thisclass and a video of portions of the instructions.  Go to Millers Grain House Facebook Page and "LIKE" it to see more.
Best Blessings and enJOY the Journey!
Donna Miller
___________________________
To find out more of what we share/do….come join the family…
Visit our Websites
"Follow" us on Twitter

"Like" us on Facebook

Watch us on YouTube