A couple of weekends ago we decided to get into the old barn and see what we could see.  This is just a small sampling of the treasures we found…but I think we could use your help – so if you have some answers to our questions, please post a comment!
Obviously these are rail road spikes: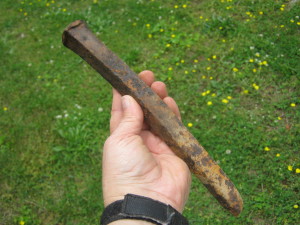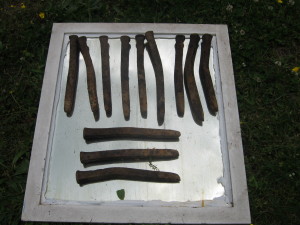 Each one is quite heavy on it's own – and as you can see we have a dozen of them.  We have no idea how old they are – just that they are old.
So what can you do with these now? Anything?
And we were thrilled to find two cane chairs that my husband remembers from when he was  much younger that his grandfather used and previously re-caned.  So we know they are old!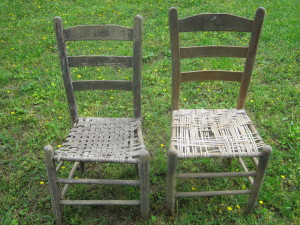 They are two of the sturdiest chairs I've seen!  Even today's factory made supposed, precision measured and assembled chairs don't come close to the solid building of these two antiques!
Last but not least by any means is something that has had me thrilled (and potentially for no good reason)!  I am enamored with this thing and don't even know what it is….maybe you can help?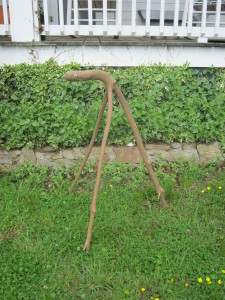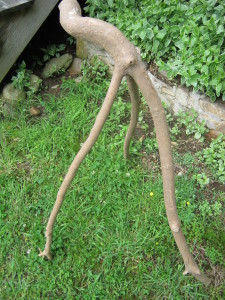 Yes.  It is likely some sort of tap root. But it is completely balanced, level and can be leaned upon with the full force of your weight (and I'm not a featherweight by any stretch of the imagination) without any one of the tripod type legs showing sign of giving way.
I know what it can't be…
It can't be a cane (too wide to walk with)
It can't be a cooking tripod (it is wood thus flammable)
It can't be a petrified squid (although it resembles one)
It can't be swing set (to short at only about 3 feet high)
But what CAN it BE? 
We really would appreciate your help if you have any ideas on the railroad tie uses and the mystery treasure root thing we found in the old barn!
Stay tuned!  More cool stuff that's coming from our Preparedness Adventure!