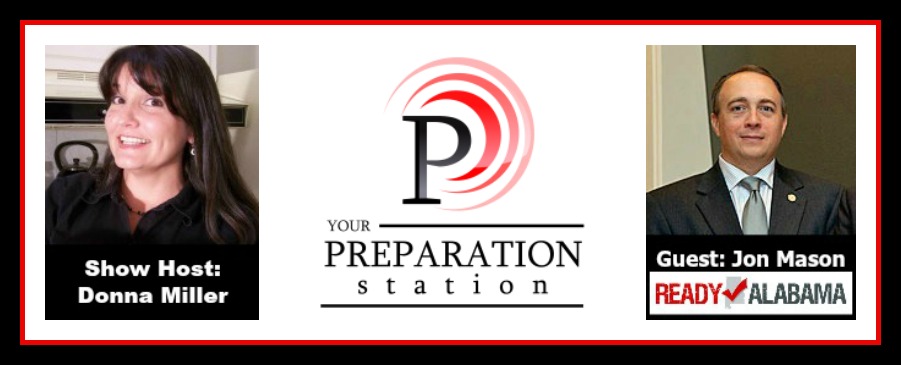 YPS Podcast – Ready Alabama?
In this podcast, I'm delighted to connect with John Mason from Ready Alabama.
We had the opportunity to talk about serving people in a community before, during and after an emergency takes place.  No matter in which state you reside, you can learn some very important information in this podcast.
[wpgfxm_contentbox width="50%" bg_color="#F1F8FB" b_color="#D94A2E" style="double" top="1px" right="none" bottom="1px" left="none" radius="0px"]FREE Digital Subscription to PREPARE Magazine[/wpgfxm_contentbox]
Jon Mason grew up in Demopolis, AL.  He received a Bachelor's Degree in Political Science from the University of Alabama and a Certificate in Meteorology from Mississippi State. His professional experience includes 18 years as a Meteorologist in Tuscaloosa and Birmingham.  Currently, Mr. Mason is the Director of Serve Alabama, the Governor's Office of Faith-Based and Volunteer Service.  He has been in this position since January 2011 after being appointed by the Honorable Governor Robert Bentley.  Serve Alabama provides education and outreach to faith-based and community organizations, promotes volunteerism and service, manages the AmeriCorps State program and the Ready Alabama campaign. Mr. Mason resides in Tuscaloosa, AL with his wife and three children.
Websites to connect with all that the organization has to offer and to be updated on important events and emergencies:
http://www.servealabama.gov/
https://www.facebook.com/ReadyAlabama
[wpgfxm_contentbox width="50%" bg_color="#F1F8FB" b_color="#D94A2E" style="double" top="1px" right="none" bottom="1px" left="none" radius="0px"]FREE Digital Subscription to PREPARE Magazine[/wpgfxm_contentbox]