Warning
: getimagesize() expects parameter 1 to be string, object given in
/home/yourprep/public_html/wp-content/themes/toolbox/functions/native.php
on line
97
Warning
: basename() expects parameter 1 to be string, object given in
/home/yourprep/public_html/wp-content/themes/toolbox/functions/native.php
on line
98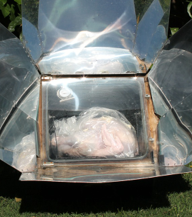 I just love teaching the Solar Cooking class that is on the docket for Saturday. Cooking with the sun is not only economical, but also resourceful!  If you were to be without power – how would you cook? Propane is not great for long storage, wood can be wet and even if you have those on hand – they are both consumable, not easily renewable power sources.
The sun is (Lord Willing) a renewable source of energy on which we can usually rely most days. Why not harness it to do something we usually do most days – cook!  We can also use the sun to stretch those other power sources to be more readily available when the sun may not be (on a cloudy day or at night).
In my class I compare the difference between a home-made pizza box solar cooker, another solar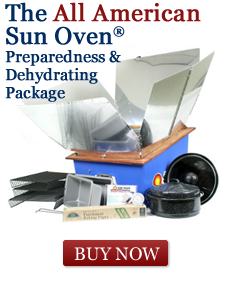 cooker (which I do not carry) and the Global Sun Oven – and now I get to share about the NEW All AMERICAN Sun Oven with some really great features specific to our American cookware and more.
The improvements and new features make this like my very own grown up 'easy bake oven' (I've said that a lot – because it's more fun than work!)
I have an interview with the Executive President of Global Sun Ovens International, Paul Munsen that airs the evening after class.  You can listen to that interview and get even more info: HERE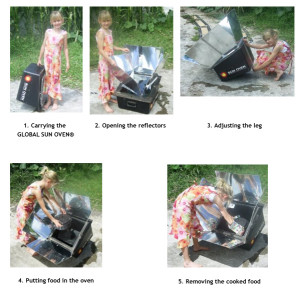 Sun Ovens are so easy to use and such fun!
If you're reading this blog – we would like to offer you a discount for a limited time on either of the Sun Oven Options we carry (Global Sun Oven OR All American Sun Oven).
Just put the code YPSBLOG in at check out and save $10 on any purchase of a Sun Oven (shipping is included for free) … as our way saying 'Thank you!' and our hope that you too will enjoy this versatile alternative cooking option!