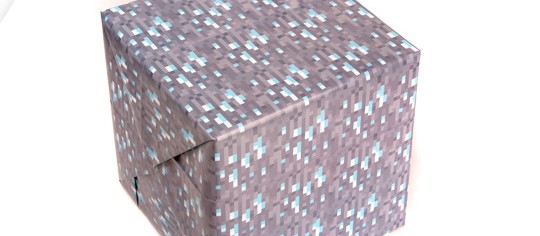 This is a short list of my top 6 prepper gifts to give or to get.  Actually, if we really look at these items – it doesn't matter if someone is a prepper or not.  They are useful and helpful for anyone! But you and I know…that giving or getting these goes much deeper than only every day use. Talk about the covert ops & how to give/request a stealth prep gift.
It doesn't matter on which end you share these gifts … they help everyone become more self-sufficient, more organized, less system dependent and better prepared.  And speaking of 'sharing' … feel free to share this post with others as either a hint for your own wanted gifts (: or an inspiration that not all things prepper related are guns and ammo (:
So here are my favorites!
 ___________________
The Wondermill Junior Deluxe
Hands down the Wondermill Junior Deluxe is one of my most FAVORITE tools for food!  Mostly because of the versatility and the manual (no electricity required) realities.  But it is light weight, more affordable than some of the others and very VERY well made.  On SALE now + a FREE drill bit adapter (ends 11-30-14) while supplies last!  Free shipping too!

  ___________________
 The All-American Sun Oven with Prep & Dehydrate Pack

I joke and often call my Sun Oven my 'grown up Easy Bake Oven' but this truly is a fun tool for preparedness.  Not only is it vital for emergencies, but we use it almost once a week (winters too) because it's that user friendly! Also we love the outcome of our food.
Since you're getting this email,  you can use the code YPS2014 and take an additional $10 off of the sale price. Coupon code offer (ends 12-15-14).   Shipped without extra shipping charges.
   ___________________
The Soda Stream
The
SodaStream
is not only a fun item to have but for those who have just gotta have a soda it can help on a psychological scale as well to avoid the feelings of being deprived. And because it has no batteries and no need for electricity you don't have to worry about it not functioning in a grid down situation.  PLUS even now…you can save yourself the high fructose corn syrup and loads of sugar and make tasty sodas from natural ingredients!
  ___________________
Then CanOrganizer
Yes. We have these light weight, easy to use 
Affordable Food Storage Organizers
lining our shelves. They cost only a FRACTION of what the big wall units cost to purchase.  They are durable and you can easily move them or even grab and go with an entire box of food!  This is an ideal gift not only for a prepper but for anyone who wants to free up space in their pantry.
   ___________________
A Berkey Filter
It doesn't matter what size of the
Berkey Water Filters
you choose. From the
Big Berkey Water Filter
to the
Travel Berkey Water Filter
this is hands down the most popular and most widely trusted filter on the market. Even if your gift is for someone who is on a bad municipal water system, it is still vital to have good clean filtered water in every situation.
    ___________________
A Generator
Yes this does get a little more prepper-ish.  But anyone who has been without power knows the value of portable energy!  Frankly, I had a hard time choosing just one thing from Camping World.  There's just so much that is applicable to the prepared lifestyle that I'm like a kid in a candy store!  So while you're checking out the generators there on line …also
Check out what's on Sale at Camping World! Hundreds of Items – Huge Savings. Click here to shop!
   ___________________
Seriously there are so many great ideas that can be preparedness related (without offending the non-preppers) that the ideas could roll on for ever!  Feel free to comment and/or contact us if you have any questions or are looking for specific items.  If we carry it – we can beat almost every price you might find out there.  If we don't, we can point you in the right direction to find the best deal.
No matter what gift you choose or ask for, just remember it's all still just stuff. Take care of your relationships and your health to be best prepared!
Have a JOYOUS Holiday Season and we pray your are Blessed beyond riches this year!
Joseph & Donna Miller
(828.536.4988)
PREPARE Magazine – Free digital issues.
Full Disclosure:
Please consider clicking the links in this blog post. With the minor affiliate income we earn we can continue testing, reviewing, sharing, airing shows and blogging – and ultimately – we hope, encouraging YOU.  Thanks so very much!
Warning
: getimagesize() expects parameter 1 to be string, object given in
/home/yourprep/public_html/wp-content/themes/toolbox/functions/native.php
on line
97
Warning
: basename() expects parameter 1 to be string, object given in
/home/yourprep/public_html/wp-content/themes/toolbox/functions/native.php
on line
98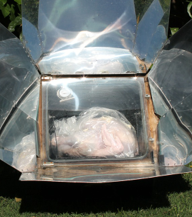 I just love teaching the Solar Cooking class that is on the docket for Saturday. Cooking with the sun is not only economical, but also resourceful!  If you were to be without power – how would you cook? Propane is not great for long storage, wood can be wet and even if you have those on hand – they are both consumable, not easily renewable power sources.
The sun is (Lord Willing) a renewable source of energy on which we can usually rely most days. Why not harness it to do something we usually do most days – cook!  We can also use the sun to stretch those other power sources to be more readily available when the sun may not be (on a cloudy day or at night).
In my class I compare the difference between a home-made pizza box solar cooker, another solar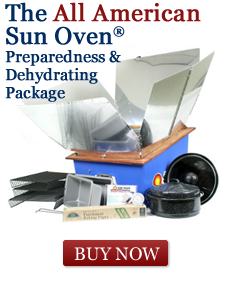 cooker (which I do not carry) and the Global Sun Oven – and now I get to share about the NEW All AMERICAN Sun Oven with some really great features specific to our American cookware and more.
The improvements and new features make this like my very own grown up 'easy bake oven' (I've said that a lot – because it's more fun than work!)
I have an interview with the Executive President of Global Sun Ovens International, Paul Munsen that airs the evening after class.  You can listen to that interview and get even more info: HERE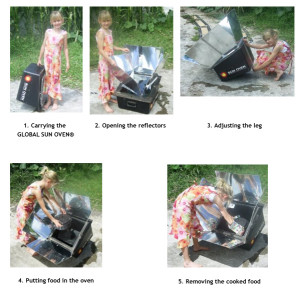 Sun Ovens are so easy to use and such fun!
If you're reading this blog – we would like to offer you a discount for a limited time on either of the Sun Oven Options we carry (Global Sun Oven OR All American Sun Oven).
Just put the code YPSBLOG in at check out and save $10 on any purchase of a Sun Oven (shipping is included for free) … as our way saying 'Thank you!' and our hope that you too will enjoy this versatile alternative cooking option!
The painful phrase "I told you so" is one I hate to use.  Unless it is being  said to someone who has already heeded some other advice we gave out early this year (January to be precise) which was "Stock up on food NOW because after the first half of the year, we suspect staples will reach a record high." 
Well, if you heeded that advice, then you're not bothered by the "told you so" statement and it is not offensive.  In fact, if you acted upon your ability to stock up you probably told people it would be this way as well.
The unfortunate part is many people have not done so.
The current agricultural climate, due to the worst drought since 1956, has pushed many commodities such as corn, wheat, soybeans and the like to record high prices.  And there is no cap in sight as yet.
Don't take our word for it.  Seriously do your own research to see how this will affect the food prices in the later half of the year.
Rather than focus on all that is wrong, if you act fast – we would like to offer some solutions:
BULK FOODS – HURRY before prices rise again – Deadline is July 21, 2012
The prices are currently still low. The agricultural hike has not yet hit as of THIS order, but will the next.
Use the code: THXMGH to get 5% off AND Free Shipping.
Use the code: JULY CLEARANCE and get an additional 15% off your entire order
Even if it's in a pail or pot on the front porch or balcony of an apartment, start learning these skills to grow SOMETHING.
Remember, we are here to help, to train and encourage, to uplift and share what we've learned and found.  Please don't hesitate to contact us.
Seriously are you always ready? For anything? For everything? Completely?
I think in a real world scenario, this is more of a percentage question than a yes or no question.
We are often faced with a sense of  'never quite done' when living the preparedness lifestyle.  I mean if this were 200 years ago, we would likely BE more ready and ALWAYS be more accustomed to adapting because the dependance upon conveniences and comforts, systems and set-ups would be far less than it is today.  That would make each household far more independently ready for what may come their way.  Are you always ready?
Admittedly, I am not.
Although more 'ready' than most for some things that may affect our way of life, I cannot say that I have reached a pinnacle of perfection and thus could claim to be 'always ready'.  In my humble opinion anyone who IS at that point is just asking for it.  Once the arrogance sets in, so does complacency and the desire for others to test you.  This is a trap I don't want to fall into.  So feeling always slightly LESS ready can help keep us on our toes!
We have to look at areas in which we would like to Always be Ready and build them each up to 100 percent, then we can feel more accomplished and perhaps focus on other ares that may lack, such as skill building or networking for survival.  Those area areas in which you cannot just purchase an item, shelve it and await pending changes or doom.
Areas in which you may want to take stock and give a percentage mark to include, but are not limited to:
The links above have a savings code to assist you with becoming more ready until July 28, 2012 Type in JULYCLEARANCE and save 15%  on any and all of those items.
I may be well prepared and feel always ready in some areas, but given even this incomplete list, I know I am not always totally ready.  It is a journey; a work in progress; an adventure.  I actually hope I never think I am, always ready.
Blessings and enJOY the journey!
It seems that with all the talk of preparedness and food storage, there is an area that many people tend to forget:  Seeds for Sustainability.  It's not surprising that this area is often over looked in the mad dash to stock food,  since most people are not used to growing their own food any more.
Our family has seen first-hand what a disaster, scare or riot can do to the limited supplies at the local super market.  The scene is a constant striking reminder to keep not only the tools on hand to grow our own food, but always practice the skills no matter where we find ourselves living.
Since the early 1900's and with much thanks to the industrial revolution, our increased urban and suburban society left much of that up to the farmer and relaxed into patronizing a local grocery store.  But with the ever looming questions of stability on the horizon, seeds and growing food at home has become a widely agreeable topic.  The change in the air is now toward people who never knew these skills to now practice them and begin to first grow then use future seeds at home, much like the 'Victory Gardens' of World War II.
The problem is, seeds have changed a lot since the 'Victory Garden' days of old.  With these changes more types of seeds became readily available in the early 1970's, with disease and pest resistant varieties, hybrids and other options supposed to give us greater yield.  However, as years have passed, we are finding these to not be very sustainable seed options.
In the days ahead, we will be focusing on many of the terms associated with seeds.  We will discuss these types of seeds with the focus being on sustainability and perpetuated growth.  It is my hope remove some of the confusion and clarify the terms that may stump the average budding home or container gardener and take away some of the guess work when planning to plant and grow a sustainable garden.
We will discuss:
Heirloom Seeds
Hybrid Seeds
Organic Seeds
Non-GMO (Genetically Modified Organisms) Seeds
Saving Seeds
More…
:
For now, if you have questions or things that have thwarted your venture into the sustainability of seeds, please comment below.