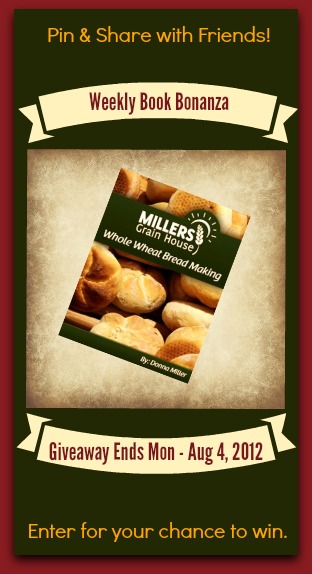 Whole Wheat Bread Making often eludes people because the loaf seems dense or bitter. But,  in just another week this new giveaway can change that for one happy person who can stop baking whole wheat door stops almost instantly!
It may seem odd to have a book dedicated to just one recipe – but the one recipe can be made into so many staples of a home that it deserved focus.  It's not about the recipe as much as it is about the techniques needed, the chemistry behind the ingredients and the skill to make a fluffy (virtually white bread consistency) loaf of Whole Wheat Bread  that you and your family will actually prefer to the colon clogging, unhealthy option from the grocery store shelf.
If you don't happen to win, this book is available on Amazon in both Paperback (Whole Wheat Bread Making (Volume 1)
) and Kindle. Also as an HERE as an Ebook  where you can read more testimonials, see the table of contents and what you can gain from it's tutorial style instruction.
Without being narcissistic I think I'll just share a couple of things that others are saying:
"It was so easy to follow and understand – I am sure that even I can bake a beautiful loaf of bread, now! The pictured illustrations were clear and attractive. Each right where I need them to be placed.  The written parts were very well worded and right to the point without leaving any questions unanswered.  Thank You"
"Whole Wheat Bread Making" by Donna Miller of Miller's Grain House is a delight to read.
I have had the pleasure of hearing Donna Miller teach her whole wheat bread making class in person and I was drawn in by her warm, inviting and adept style. This book, written with the same open yet practical personality that comes through in her classes, covers all the basics that every whole grain baker should know to achieve the perfect whole grain loaf.
Many times new bread bakers and even seasoned ones will experience some trepidation when incorporating health-supporting whole grains, but Donna's explanations, pictures and step-by-step instructions make that goal easy and enjoyable. From flour to pans to yeast and everything in between, Donna breaks down the ingredients, materials and techniques, sharing her own knowledge, but offering so many options, the reader will be able to make their bread making uniquely their own.
I recommend "Whole Wheat Bread Making" for anyone who wants to make the best whole wheat bread, or make their current bread making even better!
Vickilynn Haycraft
www.realfoodliving.com
Now it's time for you to enter for your chance to win!
a Rafflecopter giveaway
Full Disclosure:
Yes. We did write these books and yes, we offer them in paperback & kindle through Amazon. When you purchase through these links we receive a small royalty and marketing income. And you receive our gratitude for your patronage and support! May you be Blessed beyond 'riches' with Peace and Joy! ~ The Millers