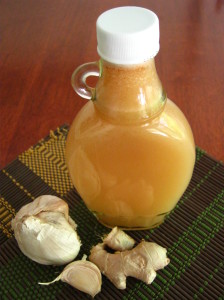 The other day an upper respiratory infection 'yuck' hit me like a ton of bricks.  Out of the blue with no warning I had the first full blown sickness I'd had in years.
The symptoms all pointed to an actual infection:
Fever
Body Aches
'Color' from my lungs or nose (sorry about that picture)
Cough
Loss of voice (not fun for a radio host)
Exhaustion
Headache
General Whimpiness
And I'm not one to go to a doctor at the drop of a hat, nor am I a fan of big pharmaceutical antibiotics.  I started the aroma therapy, the sage tea and essential oil foot rubs and began to feel at least some relief but not actually 'better' fast enough.  Enter my friend Herbalist Terry Coffee of Hill Billy Ann's.He had read my request for prayer and messaged me a list of items to gather and mix for my speedy recovery.
Admittedly, I had almost all of the items handy and often used them in other concoctions but together? Uhm no Terry, Are you trying to kill me?  He assured me he wasn't so I began the mad scientist mixology immediately with what I had on hand.  See pictured below: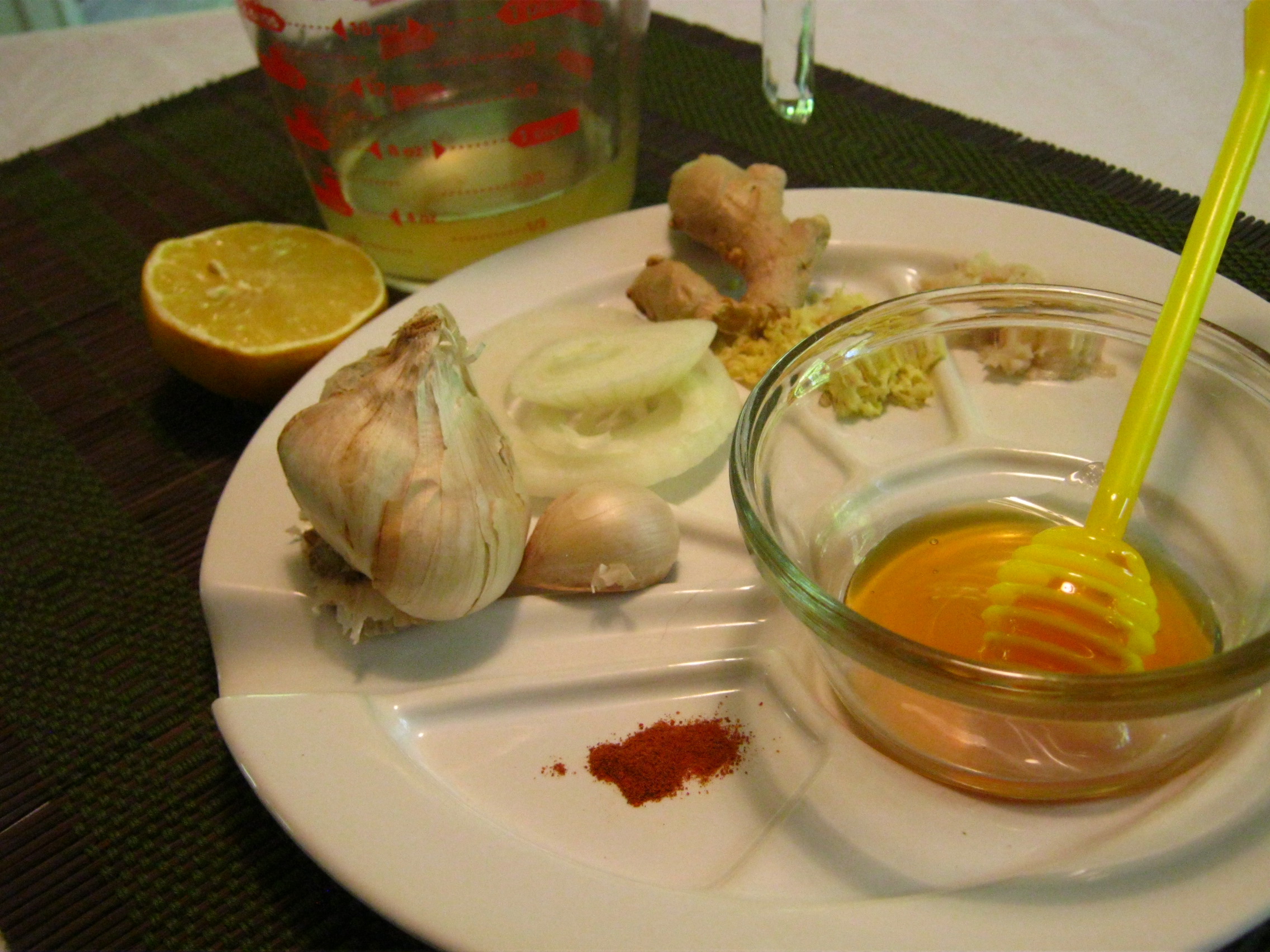 Ingredients:
1/2 Cup Organic Apple Cider Vinegar
2 teaspoons Grated Horseradish
2 Tablespoons of Grated Ginger Root
1/4 of an Onion
2 Cloves of Garlic (peeled)
1/4 teaspoon of Cyanne Pepper
2-3 Tablespoons of Honey
Juice of 1/2 Lemon
Toss all this loveliness into the blender and blend for at least 2 minutes on high.
Strain through a metal or coffee filter to remove pulp.Store in a TIGHTLY sealed jar in the fridge.
You're going to use this until it's gone.
Take 2 TBS 4-6 times a day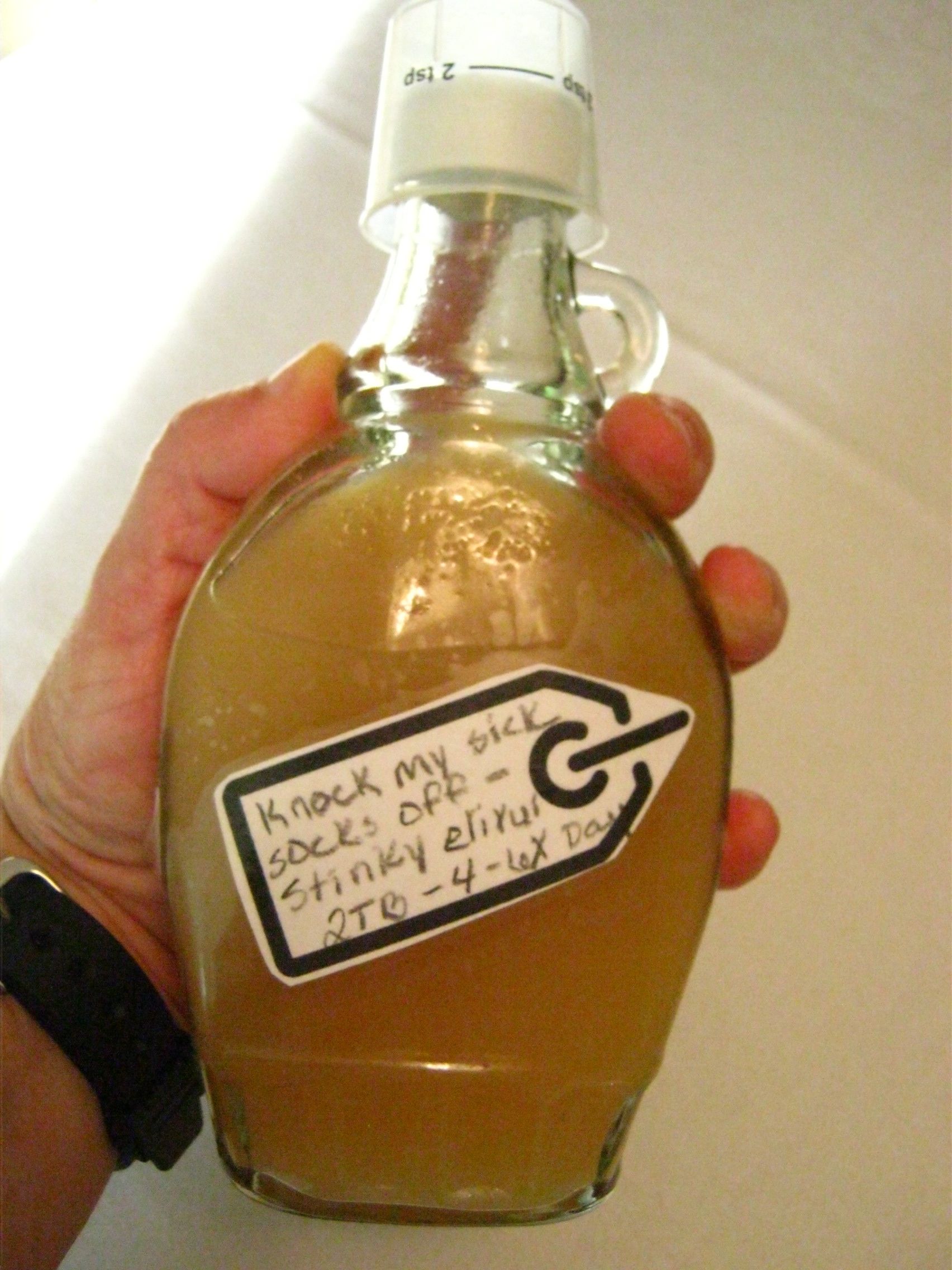 Now I will tell you that within just 2 doses of this stuff my chest congestion loosened and fever broke.  And that it's some hot, stinky mess…I didn't even have the jalapeno and habenero peppers Terry told me to put in (that was all I lacked and thankfully so).  But you know what…it's all natural and it works so I'm a happy camper.  Even if it is labeled: "Knock My Sick Socks Off – Stinky Elixir" (well, yes I mis-spelled elixir on the label – but hey I was sick) ->
I'll take the bad breath (who am I kidding, you don't have good breath when you're sick anyways) and the kick it gives each time I take it to know the infection was knocked out of my system almost completely within 2 full days! All this with items that God created naturally.
Thanks to my friend, Herbalist Terry Coffee for your payers and foundational 'prescription'!
If you're reading this blog and give it a go when you're sick – I'd love to hear how it works for you!
Best Blessings!
Donna