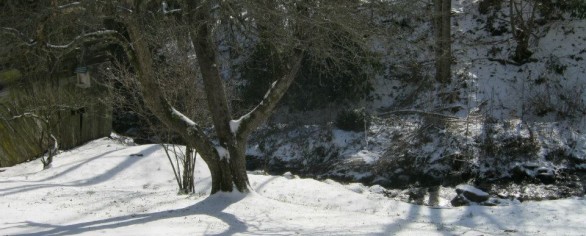 Little Darlin'… it's been a long, cold, lonely winter.
Little Darlin'… it feels like years since it's been here…
I actually do find myself singing that Beatles song when the sun peaks through now.  But it is mostly to remind me that this season does indeed pass and to make the best of it and actually enJOY it while it lasts.  We've looked out our window from the breakfast table to swirling flakes and four foot icicles that hang from the roof and enjoyed the quietness that falls over the land.  It just appears that it's happened far more often than we thought it would this winter.
Does anyone else think that this winter has been unusually long?
Our first snow fall in Western North Carolina hit the end of October.  That was one of the earliest snow falls for the area.   Snow and ice have seemed more frequent this year than in recent years past.  Often we sit on our fifth day under about 8 inches of snow.  Unless the vehicle is a four wheel drive – it's not leaving our land.  The roads are icy and dangerous until this stuff thaws.
Winter specific lessons and alterations to this new mountain life
There have been many 'ah-ha' moments during the winter that I've found quite interesting to realize.  Of course since we've moved – much of life has not been 'typical suburbia' – which is FINE by me, however; the winter weather and snow does add it's own twist to the lessons I'm learning along the way. Please do keep in mind, part of our life is to learn to 'make do' rather than 'go get' so some of these things may seem a bit unorthodox.
A few winter lessons I've learned since moving to our once 'bug-out cabin' turned homestead home:
Uh. Duh. Always have plenty of food and clean water on hand.  Not a new lesson, but one that is worth repeating.
Low ceilings are AWESOME! They allow whatever heating you are using (wood fireplace, oil heaters, gas logs, etc) to bring a room (or rooms) to a comfortable ambient temperature within virtually minutes!
The thin plastic window covering sold in home improvement stores really does work to keep cold drafts from coming through old windows. Mind you, I've been told that 'bubble wrap' works better because it traps any heat from the sun inside the bubbles but – 1) there's not been much sun anyway and 2) if I don't see OUTSIDE…someone's gonna have to peel me out from under the carpet…I'll just ooze into it and rot there if I can't see outside.
No galoshes? No problem! Plastic grocery bags tie over the shoes to make the morning trek to the chicken coupe, jeep or mailbox.  They easily untie and store by the door for the next jaunt in the snow.
Washing clothing by hand.  The laundry mat is far away.  Not only is 'wash day' hindered when one relies upon getting to the nearest coin laundry but cannot get out of the drive way but trudging through the snow to load the car makes this chore a little more annoying. Thus enter hand washing in the sink! (:  It's actually fun! See my Video
Clothes dry inside just fine!  They may be a little slower or a little more 'crunchy' due to the cold – but they do dry.  We strung a zig-zag of hooks which we string a retractable line across for those hand washed items to dry.  Zig-zagging it gives more linear footage than a straight line, thus we can dry more items.
Radiator-type heaters are a multipurpose item. Is a hand washed item not dry in time  or a pair of shows not warm enough?  Put the shoes or the not quite dry item over your radiator type heat for a SHORT while. This does dry small items fast and heat the bottom of shoes that may have sat on the porch.  WARNING…you MUST keep an eye on this and not forget.  Put a timer on your body if you tend to 'walk off' or get busy and forget things.
I know there are more little winter lessons I've learned. These just tend to top the more frequently used and oddity list (o:  I'm not complaining mind you, I'm just hoping for a season change so that this session of lessons can be over and we can move into some warmer weather lessons.
Until then, I hum the following in hopeful anticipation…..
Little Darlin' …I feel that ice is slowly melting.
Little Darlin'… it seems like years since it's been clear…
…. Here comes the sun…here comes the sun…And I say… it's all right!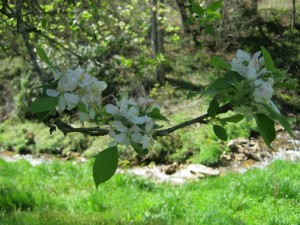 About the Author…